9/21/2017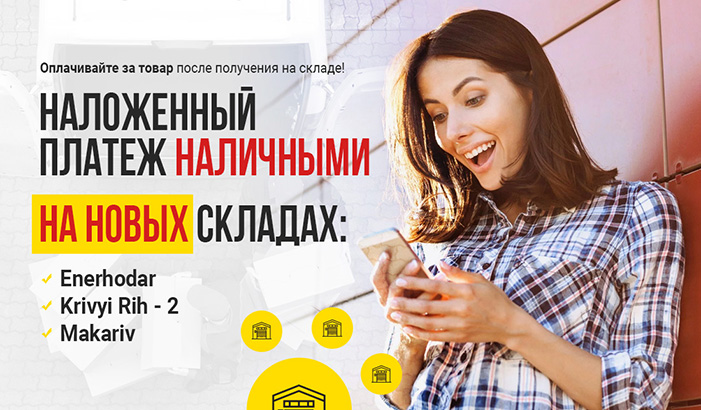 Logistical company "Delivery" is spreading actively work with Cash on Delivery service by cash!
Starting from September 21, the service starts working at the representative offices of the company Enerhodar, Kryvyi Rih-2, Makariv!
Cash on Delivery service allows to transfer cash for the goods to the clients.
Cash on delivery by cash is available for all kinds of deliveries: cargo, parcels, pallets, tires.
In the future , the company plans to increase number of the offices where it will be possible to use the service and to provide an opportunity for the clients to transfer cash for the goods in other cities of Ukraine.
Let us remind that, starting from July 2016, COD by cash was already launched at "Delivery" on 89 of its representative offices:
Бахмут

Ковель - 1

Полтава-1

Белая Церковь

Константиновка

Прилуки

Белгород-Днестровский

Краматорск

Ровно - 1

Бердянск

Кременчуг - 1

Ровно - 2

Болград

Кривой Рог - 1

Самбор

Борисполь - 1

NEW

Кривой Рог - 2

Сарны

Бровары - 1

Лозовая

Светловодск

Винница - 1

Луцк - 1

Северодонецк

Вишневое

Луцк - 2

Славянск

Владимир-Волынский

Львов - 3

Сумы - 1

Вознесенск

Львов-1

Тернополь - 1

Днепр - 1

Любомль

Тернополь - 2

Днепр - 2

NEW

Макаров

Ужгород

Днепр - 4

Мариуполь - 1

Умань - 1

Днепр-3

Мелитополь

Харьков - 1

Житомир - 1

Нежин

Харьков - 4

Запорожье - 1

Николаев - 1

Харьков - 5

Запорожье - 3

Николаев - 2

Харьков - 6

Запорожье - 4

Никополь - 1

Харьков - 7

Золотоноша

Нововолынск

Харьков - 8

Ивано-Франковск

Новоград-Волынский

Херсон - 1

Каменец-Подольский - 2

Обухов

Хмельницкий - 2

Каховка

Одесса - 1

Хмельницкий - 3

Киев - 1

Одесса - 4

Червоноград

Киев - 12

Одесса - 5

Черкассы - 1

Киев - 14

Одесса - 7

Чернигов - 1

Киев - 2

Павлоград

Черновцы - 1

Киев - 3

Подольск (Котовск)

Шостка

Киев - 5

Покровск - 1

NEW Энергодар

Киев - 7

Полтава - 3
To receive more detailed information about the service "Cash on delivery", you can get to know here: