10/22/2014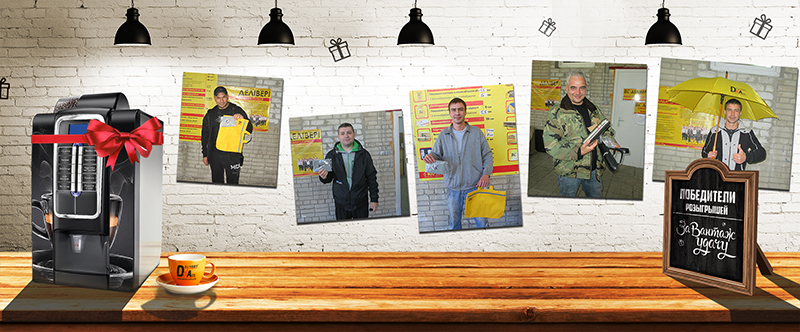 At the official page of company "Delivery" there appeared message about winning number of bill which brought to the proud owner authentic Italian coffee machine on the 17th day of October. In such a way the holiday special offer "Load your Luck" from logistics company "Delivery" which was organized for citizens of Kharkiv in honor of 350 years anniversary as from the date of foundation of the city was over.
The holiday special offer "Load your Luck" from "Delivery" continued in the period from September 16, 2014 to October 16, 2014. The key condition of participation was confirmed usage of services of the company and fulfillment of several simple rules.
Clients had to register the number of stock delivery note with the mark "ЗаВантаж Удачу!" ("Load your Luck") by means of text-message, e-mail or at the official page of the company at Facebook in specified period of time. Sent before 23:59 numbers of the stock delivery notes participated in prize drawing on the next day. The fate of the super prize was decided on the last day of the special offer by generating of random numbers at the one of the famous web-portals.
Thus each client could win wonderful Italian coffee machine (which is useful during inexorably approaching cold weather) or other useful presents from the company.
Kateryna Hryshyna, head of marketing department of "Delivery": "Each adult person comes from childhood: all of us as our children continue to wait for a miracle. It is pleasant in double measure in case if miracles appear in working days and absolutely gratis. We want to give to our clients this feeling of irrepressible joy which we felt when we were children. We hope that this time we will be succeed".
Interesting information about the special offer:
Coincidentally the winner of the super prize became a client, which at the first day of special offer registered his stock delivery note as the first to take a part;
The category " The Luckiest" was won by the client that won 11! prizes;
The nomination "The most active" was won by the client, which registered 42! stock delivery notes during the whole period of offer;
26 daily drawings of lottery took place for the whole time of offer;
25 % of the sent stock delivery notes would be winning.