8/10/2015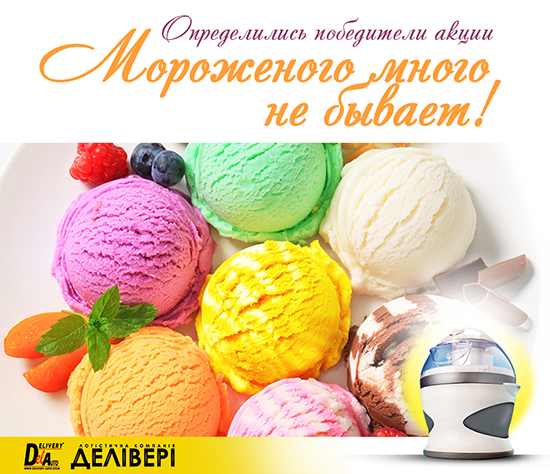 Logistic company Delivery summed up the results of the offer "There cannot be too much of ice cream!" and gave wonderful ice cream makers to the winners.
On July 21, the company Delivery announced the beginning of new sweet offer for its Clients. Everyone, who wished to take this offer, should register in the User area at the company website. The names of the winners were determined randomly with the help of the website random.org each Saturday at 12:00.
The lucky owner of ice cream makers become:
1. Olena Dmytrivna (Bucha city, drawing on June 25)
2. Artem Valeriiovych (Kharkiv city, drawing on August 01)
3. Olha Volodymyrivna (Dniprodzerzhynsk city, drawing of August 08)
Three weeks of the offer "There cannot be too much of ice cream!" revealed some interesting facts:
1069 clients registered at the User area during offer period.
Bucha city, Kharkiv city and Dniprodzerzhynsk city are the cities where the winners live.
The first day random winner used the "Delivery" company services to ship cargo for the first time
We congratulate the winners!