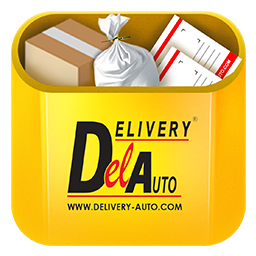 Delivery-Auto
Mobile Application Delivery
Description of the app:
Mobile application of the logistic company "Delivery" will make your life easier, you can track your cargo, get information about the nearest representative offices, receiving of cargo and many other things. We will make cooperation with our company more comfortable!
We are pleased to inform you about a new possibility. Logistic company "Delivery" is launching a mobile application.
Mobile application of the company "Delivery" will allow you to get a quick access to the information that will help to make the delivery of the cargo in Ukraine simpler and more comfortable.
The application features:
catalog of all the representative offices of "Delivery" with the full list of telephones and work schedules;
calculation of the delivery period of your cargo;
news of the company, information about the new services, about opening new representative offices.
preliminary calculation of the price of the cargo;
order receiving of the cargo and many other things.
The application will help you perform:
quick search – of any representative office on the territory of Ukraine;
finding location of the representative office on the map;
calculation of the price and period of delivery;
tracking of the state of delivery by the receipt number;
The app is available in Russian, Ukrainian, and English languages.
DOWNLOAD MOBILE APPLICATION DELIVERY-AUTO
If you cannot download the mobile app for Android using Google Play, you can use the direct link to download.
VIDEO REWIEV OF ATTACHEMENT
DELIVERY-AUTO PREVIEW