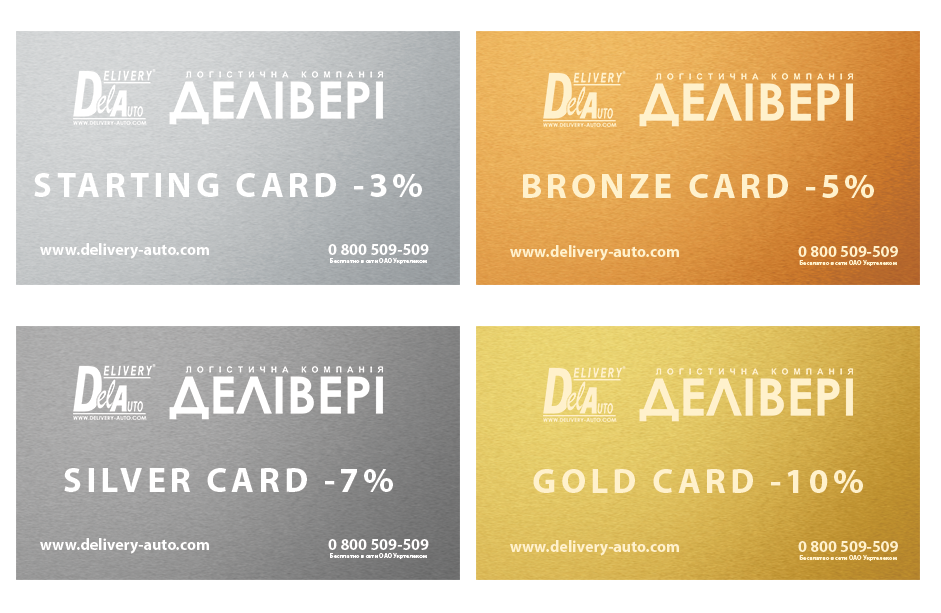 Dear clients!
Striving to make our service more loyal towards you, and prices more accessible, we are informing to introduce discount cards!
Discount program starts to work from January 1, 2011 and does not have time limits. If you would like to take part in the program, you can receive a discount card in any of our representative offices.
Regulations how to participate in the discount program:
Discount, given to the owner of the card, extends to the service "delivery" of the type "warehouse-to-warehouse".
Discount is accumulating. That is why it varies from 3 to 10%. The size of the discount depends on a monthly amount of orders.
To use the discount, you must produce your card.
Discounts are identified by individual numbers.
In order to get a discount, one needs to fill in a questionnaire.
The discount card is the property of the company.
The discount is valid at any representative office, regardless of the place of its issue.
"Delivery" company is entitled to make changes into the discount program without giving any reasons.
In case the client loses his card, he must immediately inform the representatives of the company by the telephone (067) 628-47-47 to disable the lost card and get the new one.
Attention! The discount does not give you a rebate for additional services.
| | | |
| --- | --- | --- |
| Discount card | Amount of trips per month | Discount |
| Start | At the discretion of the warehouse | 3% |
| Bronze | > 3,000 UAH per month | 5% |
| Silver | > 7,000 UAH per month | 7% |
| Golden | > 10,000 UAH per month | 10% |